I received this book for free from in exchange for an honest review. This does not affect my opinion of the book or the content of my review.
Decker - Changing the Play
by
Kayley Loring
,
Connor Crais
Published by
Independently Published
on January 11, 2022
Genres:
Contemporary
,
Enemies to Lovers
,
Fiction
,
Romance
,
Sports Romance
Pages:
327
Format:
ARC
,
eBook
,
Kindle Unlimited
,
Paperback
Buy on Amazon
#12 Johnny Decker. Star quarterback for the Boston Tomcats. Two-time Super Bowl MVP...a decade ago. Nickname: Decker the Panty Wrecker.

I get tackled for a living by men who are built like rhinos. I could take the wings off a fly with a football from 30 yards away. (I wouldn't, but I could.) Being a veteran quarterback means I'm a mentally alert, fine-tuned athletic machine who can make split-second decisions.

It's my job to anticipate what's going to happen next and adapt. But I couldn't have anticipated the death of our beloved team owner.

His estranged daughter Hannah Strong is a finance nerd from New York. She knows less than nothing about football. Know what she didn't anticipate? Inheriting the Boston Tomcats.

She's stubborn, uptight, infuriating, and wrong about absolutely everything—from pizza to how to run my team. And I don't want to talk about how good she looks in a skirt. Or daydream about how good she'd look out of it.
Really, I don't.
I'm not Decker the Panty Wrecker anymore—I've changed.

I can't stop arguing with her.

Or thinking about her.

I thought I had a winning play.
But Hannah Strong changed everything.

* This is a standalone first-in-series 79,000 word enemies-to-lovers, funny, steamy sports romance.
Even if you don't normally read sports romances you need to read Decker – Changing the Play. It's full of heart and so much emotion. ~ Kimber – Simply Love Books
Kayley Loring and Connor Crais have huddled up and written a highly entertaining sports Rom-Com and whoever came up with the idea they should write a series together, should also bet on this year's super bowl because they obviously knew it would be a great collaboration. Over this past year, Kayley has become my queen of Rom-Com. I enjoy her stories because they make me happy, I laugh nonstop, and her characters are swoony, sexy and fully of charm. Connor is an established, popular narrator who caught my ears narrating one of Kayley's books. With his deep, luscious voice he's quickly become one of my favorites as he narrates some of my most beloved characters. Now, in addition to bringing others characters to life in his recording booth, he's out there creating some of his own. This is Connor's first release as an author and I couldn't be prouder for him for taking this on and sharing his talents with us. And Girls, the boy has talents. Just you wait!
In the story, Hannah Strong has recently inherited a pro football team from her estranged and now deceased father. She has an MBA and can quote financial spreadsheets in her sleep. She's smart and determined and proudly wears her nerd badge. However, since she's always played 2nd string to her dad's team, players and his growing empire, she's never wanted to have anything to do with football, which includes never having the desire to know ANYTHING about or related to the sport she HATES. Yet, she's now the OWNER of the team. At first, Hannah plans to fake it until she makes it but after a few faux pas that cause her players, staff, the media and even the good city of Boston to want her OUT, she gives in and asks the sexy, charming, reformed panty-wrecker quarterback she can't stop thinking about or fighting with, for help. The humor, snark, quick wit, and sexy innuendoes are in abundance, and the sexual tension is building until someone is ready to break. You'll have to read it to find out who kisses whom first and all the other romping that takes place and where. It's a lot of fun until it's not. I definitely consider this a rom-com but I was really surprised and awed with the level of emotions I felt from the characters and story line. At one point, my heart sank and I knew what was coming and I did not like that feeling at all. No worries though, this has a happy ever after ending. Not only did the authors make me laugh, a lot, they made me feeeeeel. Things us romance readers live for.
Johnny Decker is the perfect book boyfriend. He's dreamy, he's a fan of wearing gray sweatpants, he's supportive, a total team player and instead of criticizing Hannah at every turn, he goes out of his way to help her. The perfect blend of cockiness and easy going. And Girls, some of the stuff that comes out of his mouth will curl your toes. I cannot wait to hear Connor read some of those words because he is narrating the audio with the super talented Mackenzie Cartwright and it cannot release soon enough.
Hopefully, I've given you just enough information to make you want to go out and get this gem today! Even if you don't normally read sport romances or football romances you need to read this one. Not just for the romance-y stuff but because it's well written, It's full of heart, and I promise it'll put a smile on your face.
This is book 1 in Connor and Kayley's sports romance series and others are in the works. I'm totally convinced this writing duo will continue to wow us. Their voices and style mesh together like beer and pizza, or beer and lobster rolls, or beer…and beer. Decker: Changing the Play is a 5-star read and a great place to start if Kayley Loring and Connor Crais are new to you authors.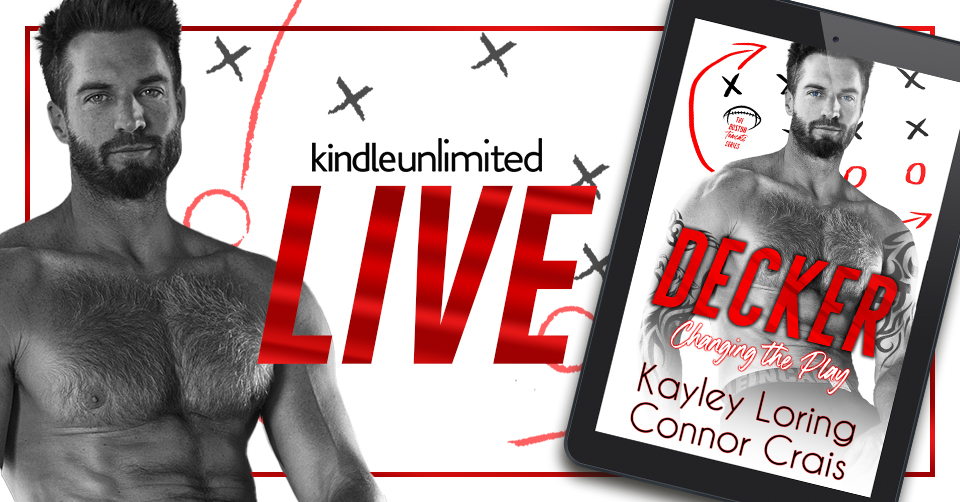 🏈❤️ 𝗛𝗢𝗧 𝗡𝗘𝗪 𝗥𝗘𝗟𝗘𝗔𝗦𝗘 ❤️🏈
𝗗𝗲𝗰𝗸𝗲𝗿: 𝗖𝗵𝗮𝗻𝗴𝗶𝗻𝗴 𝘁𝗵𝗲 𝗣𝗹𝗮𝘆, 𝗕𝗼𝗼𝗸 𝟭 𝗶𝗻 𝘁𝗵𝗲 𝗕𝗼𝘀𝘁𝗼𝗻 𝗧𝗼𝗺𝗰𝗮𝘁𝘀 𝗦𝗲𝗿𝗶𝗲𝘀 𝗯𝘆 𝗞𝗮𝘆𝗹𝗲𝘆 𝗟𝗼𝗿𝗶𝗻𝗴 𝗮𝗻𝗱 𝗖𝗼𝗻𝗻𝗼𝗿 𝗖𝗿𝗮𝗶𝘀 𝗶𝘀 𝗟𝗜𝗩𝗘 𝗘𝗔𝗥𝗟𝗬!!! 𝗗𝗼𝗻'𝘁 𝗺𝗶𝘀𝘀 𝘁𝗵𝗶𝘀 𝗳𝘂𝗻𝗻𝘆 𝘀𝗽𝗼𝗿𝘁𝘀 𝗿𝗼𝗺𝗮𝗻𝗰𝗲 𝘄𝗶𝘁𝗵 𝗮𝗹𝗹 𝘁𝗵𝗲 𝗳𝗲𝗲𝗹𝘀!
#𝟭-𝗰𝗹𝗶𝗰𝗸 𝘁𝗼𝗱𝗮𝘆